Trailers-Online, Inc.
877-FOR TRAILERS
877-407-8724
715-483-1424
Buy Quality Used Dry Vans, Reefers, Flatbeds, Curtainsides, Moving Vans, Electronic Vans, Opentops, Storage, etc...
Easy Trailer Search
Detailed Trailer Search
Contact information
Trailers-Online, Inc.
P.O. Box 665
Saint Croix Falls, WI 54024
Toll Free: (877) 651-6977
Local: (715) 483-1424
Fax: (866) 350-2588
Translation
Specials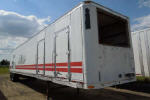 Price:  $4,500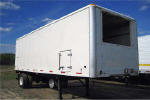 Price:  $4,250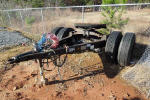 Price:  $2,250
Quality used trailers at affordable prices!
Delivery Available!!
Trailers-Online, Inc. is a family owned company with over 50 years of combined experience buying and selling used semi-trailers. We offer a large selection of semi-trailers including reefers, dry vans, dropframe vans, moving vans, curtainsides and flatbeds. Please look through our inventory and call or e-mail us with any questions. If you don't see what you're looking for today, fill out a "I Need A Trailer" form as our inventory changes daily. Delivery available! Call us with your trailer needs!
New Arrivals
| | |
| --- | --- |
| Length | |
| Width | |
| Height | |
| Suspension | |
| Door Type | |
| Unit# | ELECTRIC_UNIT_ONLY |

Price:  $7,500

| | |
| --- | --- |
| Length | 48' |
| Width | 102" |
| Height | 13' 6" |
| Suspension | Spring |
| Door Type | |
| Unit# | ROLLUP_SIDEDOORS |

Price:  $8,950

| | |
| --- | --- |
| Length | 48' |
| Width | 102" |
| Height | 13' 6" |
| Suspension | Spring |
| Door Type | |
| Unit# | NOUNIT |

Price:  $7,500

 

| | |
| --- | --- |
| Length | 28' |
| Width | 102" |
| Height | 12' 6" |
| Suspension | Air Ride |
| Door Type | |
| Unit# | PUP_SIDEDOORS |

Price:  $8,250

| | |
| --- | --- |
| Length | 53' |
| Width | 102" |
| Height | 13' 6" |
| Suspension | Spring |
| Door Type | |
| Unit# | FLAT_FLOOR |

Price:  $7,950

| | |
| --- | --- |
| Length | 48' |
| Width | 102" |
| Height | 13' 6" |
| Suspension | Air Ride |
| Door Type | |
| Unit# | ELECTRIC_STANDBY |

Price:  $13,500

 

| | |
| --- | --- |
| Length | 28' |
| Width | 102" |
| Height | 13' 6" |
| Suspension | Spring |
| Door Type | |
| Unit# | ROLLUP_SIDEDOOR |

Price:  $7,250

| | |
| --- | --- |
| Length | 53' |
| Width | 102" |
| Height | |
| Suspension | Air Ride |
| Door Type | |
| Unit# | 230V-3PH_ELECTRIC |

Price:  $14,500

| | |
| --- | --- |
| Length | 51' |
| Width | 102" |
| Height | 13' 6" |
| Suspension | Air Ride |
| Door Type | |
| Unit# | STAINLESS_FRONTREAR |

Price:  $8,250